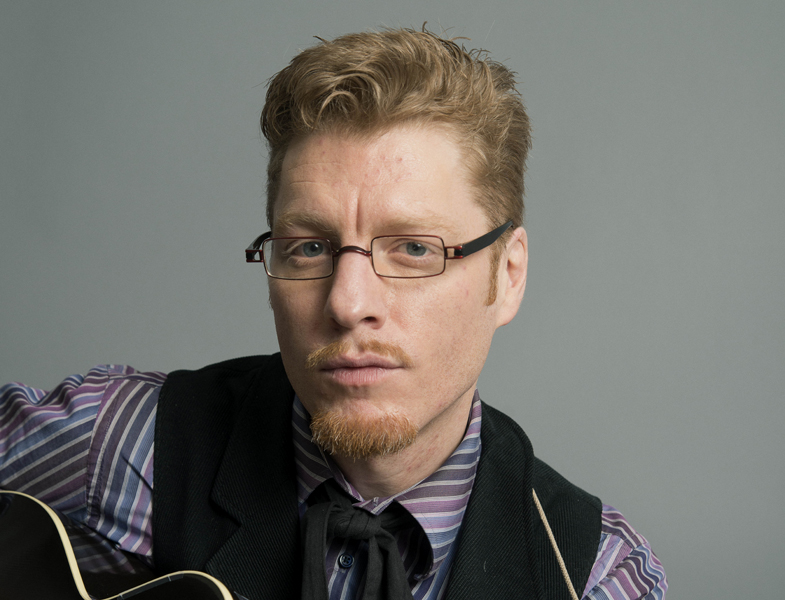 What separates Brandon from the rest of the pack besides his world-class musicianship and song writing, is his ability to connect and involve the audience in his live shows.
After many nominations by The Maple Blues Awards, (Canada's national blues awards) this Yukonion guitar slinger finally won his first MBA last year for (Acoustic Act of the Year). The nominations were just released again and Brandon once again has a nomination… (Guitarist of the Year). We'll have to wait and see what happens. Last year he had nominations for (Song Writer of the Year), (Acoustic Act of the Year) and (Album of the Year) for his latest solo album; Here On Earth.
Brandon was nominated by (The 2013 Maple Blues Awards) for (Acoustic Act Of The Year) and (Song Writer Of The Year). He was nominated for (Song Writer Of The Year) by the 2010 M.B.A.'s. This honour recognized him as being one of Canada's top songwriters. He was also one of Canada's 13 artists picked to write a road song about their province / territory for the CBC's, great Canadian Song Quest 2011.
Mr. Isaak represented British Columbia in the 2012 International Blues Challenge which takes place every year on Beale St in Memphis, TN. This is the biggest gathering of blues acts in the world.
Brandon's first solo album entitled; "Bluesman's Plea" was nominated for a (2012 Western Canadian Music Award) for (Best Blues Album Of The Year.) Don't let the title fool you; this is a very versatile and diverse roots album that truly reflects the music that he plays in his "Live" performances. The song's showcase Ragtime, Delta Blues, Piedmont, Gospel as well as Swing styles. This album has just been
Brandon is also known as the front man and main songwriter / guitar player for the Popular Canadian Jump band (The Twisters) based out of Vancouver, Canada. He now has a new hot group called: Brandon Isaak & his Saints of Swing.
Over the years Brandon has had a chance to play with some of his favourite musicians and main influences, such as: Corey Harris, Guy Davis, Taj Mahal, Colin Linden, Harrison Kennedy, Serena Ryder, The Sojourners and Jim Byrnes as well as electric greats like… Jeff Healy, Joe Louis Walker, Kenny "Blues Boss" Wayne, and Chicago Blues Diva Zora Young.
Brandon's affinity for the rawness and spontaneity of the blues is second to none, as anyone who has had the privilege of being a part of his audience will tell you. He brings a firebrand style of guitar as well as incredibly stirring vocals that truly has to be witnessed to be appreciated! He is VERY much in the moment as he rips it up, and we know you'll be impressed with the caliber of showmanship within his performance of songs & stories by this great Canadian artist.