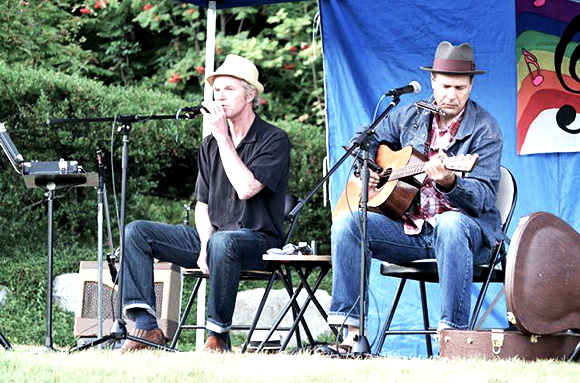 For more than twenty years Dave Paterson has been playing music in clubs and festivals, around the country and here in BC. He performs as a solo act singing and playing guitar while accompanying himself on harmonica. His repertoire ranges from Robert Johnson to Hank Williams to Hoagy Carmichael. Basically his own take on old Americana.
Dave also performs with his Vancouver based band The Skillet Lickers playing a variety of roots music including country blues, western swing and bluegrass.
Joining Dave on harmonica and vocals is Roberts Creek resident Steve Hinton. Steve is the lead vocalist and harmonica player for the Vancouver based Hinton Hart Band which plays a mix of post war urban blues, Jump Blues, R&B and original tunes.
Dave and Steve bring their respective talents together in a Country Blues meets Big City Blues duo format which features intertwining harmonicas, vocal harmonies and Dave's traditional acoustic and slide guitar mastery.