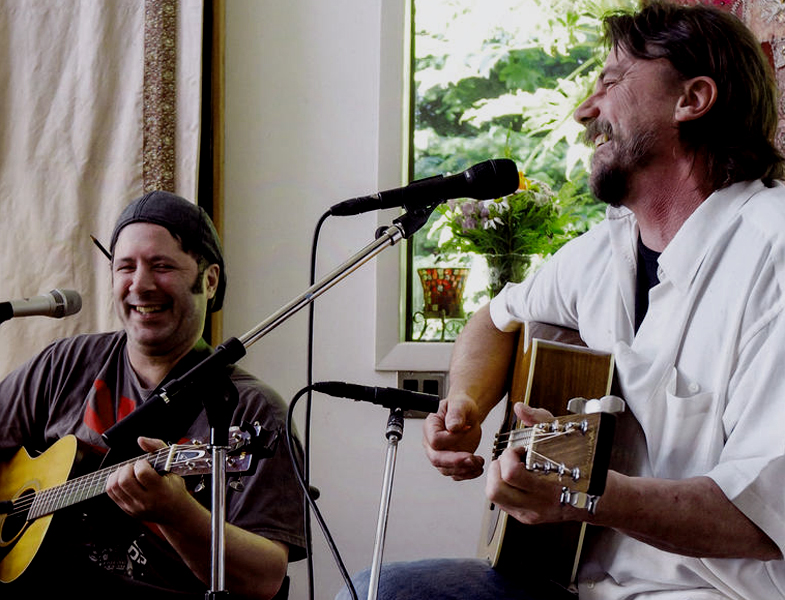 Joe's philosophy: Play wherever they'll listen. Whether it's in a hot air balloon over the Swiss alps or at the Kerrville Folk festival in the hill country of Texas, or at the world fingerpicking championships in Winfield Kansas, Joe, on his faithful Martin D28, has played and people have come to listen.
Simon's philosophy: Play loud; play hard; play fair. Whether it's in a blues band in the bars off St.Laurent in Montreal or in his crowded family living room or under a midnight sun at the North County fair, Simon, usually accompanied by a sunburst telecaster, has played loud, played hard, and played fair.
The two philosophies collided sometime around the turn-of-the-century in Halfmoon Bay, a narrow spit of land surrounded by ocean and rainforest in British Columbia's not-always-so-sunny Sunshine Coast and has led to a musical collaboration that has created songs of love and loss and sleeping dogs, of ideal
horses and broken down trucks. Songs that waltzed and rocked and two stepped; late night songs and early morning ones too.
Occasionally arguing like brothers fighting over who gets the front seat, Simon and Joe, along with their band the Precious Littles, spent two years recording at StraitSound studios. Simon co-produced Joe's original tunes, along with producer and studio owner Ray Fulber, a creative union that, in 2008, culminated in Sometimes You Win, a cd BC Musician Magazine decreed to be "the perfect soundtrack for the dog days of summer". Five days before the new cd was to be unveiled at the Vancouver Island Folk Festival something terrible happened. Simon fell. He fell off an unsecured piece of scaffold and sustained life-threatening injuries to his brain and spinal cord. Joe and The Littles traveled to the festival and played the gig not knowing whether their friend and bandmate would survive the day.
Simon survived. Instead of beginning the anticipated tour to promote a new cd he woke from a twenty-day comatose state and began the arduous work of recovery and rehabilitation. He had to learn how to live in a wheelchair. He had to re-learn how to swallow and how to move his left arm. He had to re-learn how to play guitar. Joe returned to the Sunshine Coast, week after week sitting in a room with Simon helping him re-learn the music they had once created together. These musical therapy sessions culminated in Simon playing with Joe and bassist Gerry Miller at Sechelt's Olympic Torch Relay concert, a fitting gig to mark his first live performance since his accident, as the effort required to reach that point was truly Olympian.
Today they have regrouped as a duo. Not only are they playing some of their older material and interpreting some of their most beloved songs but they are drawing on this latest life experience to create some exciting new work. New songs that are honest, challenging, and raw; new songs that are expressions of joy and love, of friendship and pain. Music is a vital and elemental force in their lives. It is music that has helped Joe and Simon find meaning and purpose in hard times; when they have fallen, it is music that has helped them get back up.
As a duo they aim to bring this love of music to communities across British Columbia and Canada. Through their live performances, group workshops or private lessons they promote the notion that music is medicine for body and soul and should be made accessible to everyone in a community.
JOE STANTON
Joe is a journeyman musician: a singer/songwriter who is also a master fingerstyle acoustic guitar player. He was a finalist in the prestigious Walnut Valley US National Finger-Style Guitar contest and has entertained audience across North America and Europe. Recent gigs include the Live Recording at StraitSound,
Bluebird North and The Vancouver Island Folk Festival
DISCOGRAPHY
vintage, 2012, Compilation Joe Stanton originals. Bearwood Music.
Sometimes You Win, 2009. Joe Stanton with The Precious Littles. Produced by Ray Fulber and Simon Paradis, Bearwood Music.
Passenger Stanton, 2004. Joe Stanton. Produced by Colin Nairne at BakerStreet Studios (Vancouver).
There You Go, 1997. Joe Stanton. Produced by Geoff Gibbons
Tomorrow This Time, 1995. Joe Stanton and Denis Jensen.
TEACHING
Joe offers private classes and workshops on songwriting as well as finger-style acoustic and open-tuning techniques.
SIMON PARADIS
Simon received a BFA in Integrative Music Studies at Concordia University 1995. In 2012, he polished up his skills at The Berklee School of Music, completing the Professional Guitar Certificate. He has played in bands in London, Ont. and Montreal, Que, settling on the West Coast in 1996 where he played in several
bands: Azulejos, The Sue Leonard Band, Los Nacos, Gut Bucket Thunder and The Precious Littles. Notable gigs included 2005 North County Fair, The Likely Bluegrass Festival, Gibson's Jazz Festival, 2010 Olympic Torch Relay Show, House band at the Garden Bay Pub (2005-present), Robert's Creek Festival, The
Apple Festival, Live Recording at StraitSound.
DISCOGRAPHY
The Ballad of Nicky Needle, 1999, Guido Heistek. Recorded at Zepp Studio and Squid music (Japan) and Profile Studios (Vancouver). Co-producer and electric guitarist.
Comfort Zone, 2004, Angie McCauley, Bearwood Music. Electric guitar and additional production.
Passenger Stanton, 2006, Joe Stanton. Produced by Colin Nairne . Electric guitar.
Borderland, 2008, Lowry Olafson. Bearwood Music. Electric guitar.
Silverado, 2008, Slim Milkie. Bearwood Music. Additional production and electric guitar.
Sometimes You Win, 2008, Joe Stanton and The Precious Littles. Bearwood Music. Co-produced with Ray Fulber, electric guitar, dobro, piano and vocals.
TEACHING
Private music teacher, 1996-present. Simon offers workshops in blues and swing guitar, music theory and improvisation.
Photo above: Joe Stanton with Simon Paradis