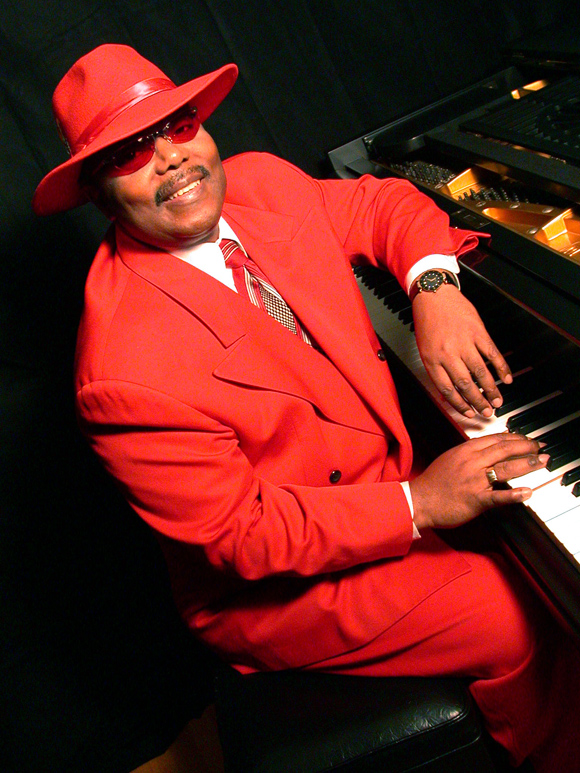 There's no boogie woogie-blues piano man out there today who pounds the 88s with the conviction of Kenny "Blues Boss" Wayne. – Jeff Johnson, Chicago Sun Times
You'll jump, you'll jive and have a great time as Kenny "Blues Boss" Wayne does his boogie woogie piano/singing on "Let It Loose." Performing with a panache evoking Champion Jack Dupree, he mixes lively originals with covers of Memphis Slim ("Blue and Lonesome") and Shifty Henry ("Let Me Go Home Whiskey"). – Jonathan Takiff, Philadelphia Daily News
Hailed by Living Blues magazine as "an artist bringing the piano back to the front ranks of Contemporary Blues", Kenny Wayne is at the forefront of modern day blues piano practitioners. Well versed in the New Orleans Blues and Jazz tradition by his Louisiana born parents — soaking up the exquisite grooves laid down by Fats Domino, Roosevelt Sykes, Professor Longhair and Pete Johnson — Kenny has along the way picked up a taste for Kansas City Swing and West Coast Jump. Working with artists as diverse as Jimmy Reed, Charles Mingus, Sonny Rhodes, Jeff Healey and Joe Louis Walker has added a tasty seasoning to the mix.
Kenny "Blues Boss" Wayne is, literally speaking, the son-of-a-Preacher-man. Born Kenneth Wayne Spruell in Spokane, Washington in 1944, Kenny and his family soon moved to Los Angeles where the vibrant West Coast blues scene was headquartered. A child prodigy on piano, Kenny was encouraged by his strict father to play gospel music. But with Los Angeles boogie woogie pianists Lloyd Glenn, Amos Milburn, Hadda Brooks, Floyd Dixon and Jimmy Beasley ruling the airwaves in the early 1950s, not to mention North American wide recording star Fats Domino, it was impossible for the elder Spruell to keep young Kenny's ears free of the "Devil's music". Apparently, neighbors of the Spruells were treated to the sounds of boogie woogie via the church pipe organ after young Kenny coaxed his piano teacher to show how to get his left-hand bass going.
By the time Kenny reached his early teen years, he was an accomplished keyboardist. With his cousin Henry Avery, a drummer with a growing R&B reputation and a knack for hustling gigs, Kenny worked dozens of gigs in the early '60s, several backing visiting blues/R&B legends including a 1962 appearance at the Alpha Bowling Club with the great Jimmy Reed Ð the biggest blues hit record king of all time, with #1 records on the charts for a span of 8 years. Kenny's parents came to the club that night to hear their son play piano with the blues legend.
Everything Reverend Spruell feared about the "Devil's Music" came true that night. The club was crowded, smoky and wild and before long a vicious brawl erupted and one man attacked another with a broken bottle, blood spraying everywhere. As Kenny recalls with a chuckle, "my Dad grabbed my mom with one hand and ran up to the stage and yanked me off the piano bench and led us through the kitchen and out the back exit…that was the end of my blues career for over 20 years".
Meanwhile the West Coast Soul circuit was taking off and by the late 1960s Kenny Wayne was in tight with the Los Angeles R&B scene. Kenny played with Delaney & Bonnie Bramlett when they were based in Sherman Oaks, CA and quickly became first-call keyboardist for live club and concert dates around L.A. Work with Billy Preston, Sly Stone and The Doobie Brothers soon followed. In 1974 Kenny moved to San Francisco to work with an upcoming R&B band Earth Rise. Stints with other bands continued but the disco craze was beginning to have an impact on the live music scene. Kenny responded by putting together an R&B revue called The Mighty Ken Explosion and headed north to Canada. Kenny and the band soon established a strong reputation on the Manitoba to BC club circuit. When the band broke up in the late 1980s many of the band members including Kenny and harmonica player Dave Hoerl settled in Vancouver. Kenny's reputation as a talented keyboardist put him at the top of everyone's on-call list and Kenny established himself not only with the R&B circuit, but also with the blues and jazz communities.
It wasn't long before Kenny met Linton Garner, the piano-playing brother of jazz legend Erroll Garner. Garner provided Kenny with invaluable tips on the musical styles of many of Kenny's piano-playing idols. Frequently working at the time as a solo pianist, Kenny couldn't help but notice the reaction when he played a blues based boogie. "People would stop talking and really listen. I started slipping in more and more boogie piano and the response was totally rewarding."
Kenny's full transformation into 'Blues Boss" Wayne (the nickname taken from the title of Amos Milburn's Motown Records comeback album) came about following a 1994 tour of Europe. Kenny's longtime passion for Fats Domino and Amos Milburn paid off in the form of star treatment from piano-loving European music fans. "This was a revelation for me as blues and boogie-woogie music has always been closest to my heart. I guess I had to find out on my own that there was an audience for it."
Kenny's solo debut, 1995's Alive And Loose, showcased his boogie woogie virtuosity and featured 11 originals plus dynamic covers of Jimmy Reed and Fats Domino tunes. The CD received rave reviews from the blues press all over Europe and North America. Over and over the critics praised Kenny's charismatic delivery and attention-riveting originality. In 1997, Kenny recorded the critically acclaimed Blues Boss Boogie — his second Juno-nominated (Canada's Grammy) release in a row.
Kenny's 'magic' also had a powerful effect on his fellow performers. In the summer of 1999 at the Sacramento Heritage Festival both headliners — Ike Turner and Joe Louis Walker — were so moved by Kenny's set that they sought him out afterwards to bestow praise. Later that summer, Kenny got a call from Joe Louis and soon Kenny was touring Europe as part of Joe Louis Walker's All-Star band. Not long after, Kenny found himself invited back as a headliner at several European Festivals.
In 2002 came the release of Kenny's, "88th & Jump Street" on Canada's premiere blues label, Electro-Fi Records. Produced by Kenny Wayne, the recording featured many musical friends including guitarists Jeff Healey & Mel Brown, with Chicago blues legends Willie "Big Eyes" Smith & Bob Stroger on drums and bass. 2002 also saw the release of "Blues Carry Me Home" recorded in Paris with Kenny's then touring band. "It was a particular thrill for me to record live in the same studio where Memphis Slim made most of his records when he lived in France," remembers Wayne, "I heard a lot of great stories about Slim during the sessions which made a big impression. We did it his way. No overdubs, we just played as we felt at the time."
In 2005 Wayne released his second CD for Electro-Fi "Let it Loose" which was widely successful, earning him his first Juno Award in Canada. 2008 saw the release of "Can't Stop Now." In 2011 Wayne signed with Stony Plain Records and paired up with guitarist and producer Duke Robillard for "An Old Rock on a Roll" and Kenny received his first nomination from Living Blues magazine as "Most Outstanding Musician (Keyboards)" In 2012 Kenny was voted "Most Outstanding Musician (Keyboards)" by Living Blues Magazine and "An Old Rock on a Roll" was voted Best Contemporary Blues Album of 2011 by Living Blues as well.
In 2014 Wayne released his second album for Stony Plain Records, "Rollin' with the Blues Boss". Produced by Tom Lavin, guitarist and founding member of the legendary Powder Blues Band, the album also features special guest appearances by Eric Bibb (vocals, acoustic guitar) and Diunna Greenleaf (vocals).
High spirited, fresh as this morning's e-mails, Kenny Wayne has earned his title, and he's having fun. "This old rock IS on a roll," he laughs. "Just give me a piano and an audience, and everybody's gonna have some serious fun!"