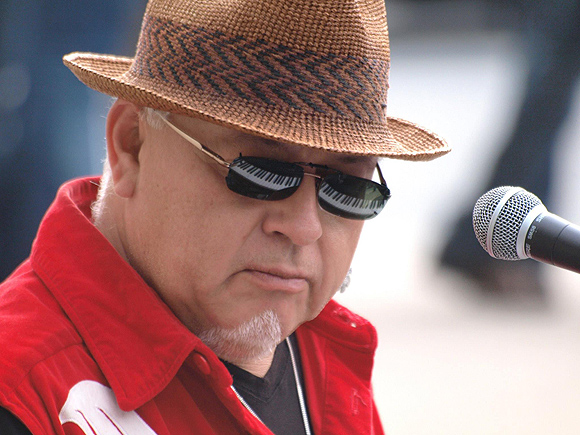 Murray Porter's music has an instantly recognizable sound. The Mohawk piano player from Six Nations of the Grand River Territory brings his culture and history to the masses through his music. With a mix of blues, country, and humour, Porter's gravelly, soulful voice sings not only of the history and contemporary stories of the Aboriginal Peoples of Canada, but also universal themes of love, lost and found. He has spent over 30 years playing his self-taught unique style of foot-stomping, hand clapping blues piano around the world.
It was with his latest studio album Songs Lived & Life Played that Porter really started to see his popularity grow. The album won the 2012 JUNO for Aboriginal Album of the Year. It was nominated for two Western Canadian Music Awards and four Aboriginal Peoples Choice Music Awards. It was at the latter awards show where he brought the house to their feet and to tears with the emotionally charged song about residential schools, "Is Sorry Enough?"
"He is a caring man with a powerful creativity and a sensitive curiosity," said Hugo Rampen, Artistic Director of the Salmon Arm Roots & Blues Festival.
To watch Porter live, it's so clear that he loves to perform, and does so with care, love, wonder, and unabashed happiness. He makes it look easy. These emotions are easily shared with the audience and one cannot help but get caught up in his performance. He has been compared to Dr. John, Joe Cocker and even Elton John! Robbie Robertson has called Porter "a master bluesman."
When not touring, Porter supplements his income with gigs all over British Columbia and throughout Canada and U.S. Whether he is playing an intimate venue for local blues fans, or on a festival stage to thousands of music aficionados, Porter's love of performing comes across clear and strong.