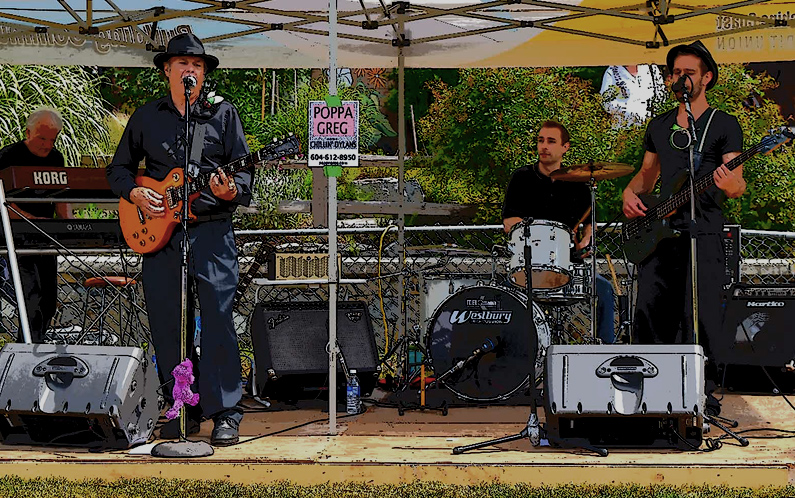 The devil's music (you know – rock, blues, r&b, jazz) took hold of the young lad when his father ( a renowned musician in his own right) watched in dismay, as his son took the violin he was trying to teach him and Greg held it like a rock guitar, struck the classic pose and tried to get "that sound".
Getting "that sound" has been Greg's mission ever since. He started touring Ontario with his bands at age 17, and has played with numerous acts over the years. On the west coast now since 1975, his last major project was the Groove Grinders – a sharp classic rock and R & B act that played Vancouver clubs, pubs and greg-lespaulparties for 7 years (2002-2008), wowing them everywhere. Greg has been on the Sunshine Coast since 2008, and was fortunate to sit in with, and front some great musicians at many venues up and down Coast.
Having recently moved to a more populated area of the Sunshine Coast of BC, Poppa Greg found a wider variety of musicians and venues, and soon met Dylan Clark, a bass player, who while is new at the instrument, is an old soul when in comes to laying it down. Mr. Clark in turn introduced Poppa Greg to Dylan Brackett, a drummer who has been playing here on the coast for many years. The Dylan's had been working together in several projects and really complemented each other's styling and improvisational skills.
Poppa Greg & The Chillin' Dylans have evolved quickly into one of the Sunshine Coast's best bands. Check them out at your favorite local, and remember – they're available for private functions too! Make your party the hit of the season when you hire this great band – Poppa Greg & The Chillin' Dylans.
Mixing equal parts rock, blues, soul, funk and talent, with a dash of Clapton, Hendrix, Page, Stevie Ray, the Sunshine Coasts' Poppa Greg & the Chillin Dylans has quickly proven to be a force to be reckoned with on local stages.